If you've invested a lot of effort into building your blog and adding fresh content but you're not seeing any results, maybe it's time to rethink your strategy and possibly update your old content. Many people focus on adding more and more content to their blog, thinking, "The more the merrier." Hm, what if we told you that you could get great results just by making small improvements on your old content? We'll show you how to do it here.
Why update old content?
First, let's talk about when and why you should update your old content. The quality of content, just like anything else, declines over time. This depends on the topic, of course. If you're talking about how to fix a squeaky door, there's not that much you can update there, but if you're talking about trends or "most popular" lists, or other things that change over time, then search engines will likely start pushing down your "outdated" content and replace it with something fresher. You could continue producing new content and possibly rank for it, or try to improve older content, which may even turn out to be a better, faster and more efficient way to rank for a certain topic. Give your content a facelift and Google will see it as newer and more relevant. Would this help your SEO efforts? Certainly, yes.
Newest content gets better SEO results:
Pick a random topic and look at the dates when the search results were published. No doubt you'll notice that the vast majority was published in the past year or so.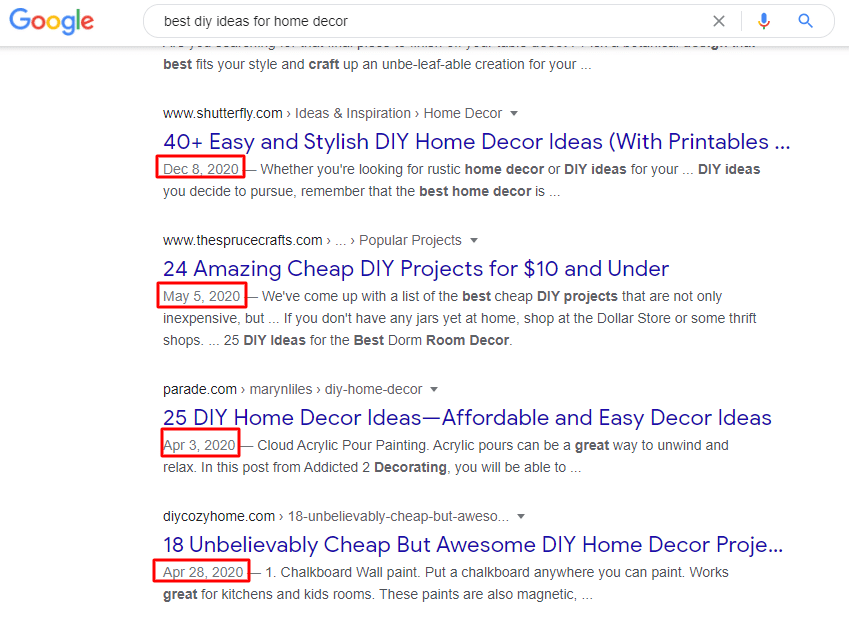 This just goes to show how much fresh content is preferred over older content. Many topics constantly evolve and need to be updated on a regular basis to keep them current and relevant. For example, if you search for "best hairstyles for women" wouldn't you want to read something more recent, instead of an article that was posted a few years ago? You're more likely to click on a more recent article, which is very important for SEO. The more people click on your pages and articles, Google's algorithm will see them as more relevant, and rank them higher. Here are a few steps to follow in order to make your content more relevant and more appealing:
Improve Titles and Descriptions
Start with your meta titles and descriptions. Here are some rules to follow:
Keep your title at about 70 characters, just enough to tickle the interest of your target audience. Make it revealing but also secretive by saying what your piece will be about (i.e. what your audience should learn from it).
Let search engines know that your content is fresh. According to a Hubspot article, updating their old content resulted in "more than double the amount of leads and an increased number of organic search views of old posts by a whopping 106%!" If you're only publishing new content, old content will eventually die off and you might be losing precious content there.
Revisit the keywords. There might be a chance that you have been optimizing for the wrong keywords. Take proactive steps and improve your keywords to make your content more relevant to them. If you've been writing about "Best running shoes for spring" but your keyword is just running shoes, you may not get as much benefit as you would if your keyword was long tail: "best running shoes for spring." It might be easier to target long-tail keywords like this instead of general keywords that are more difficult to rank for. We've addressed keyword selection in one of our previous posts. You can read it here. This will give you a chance to get traffic from all fronts and the bits may sum up to a large chunk of traffic that you would otherwise miss.
Pay Attention To Grammar
Accidental grammatical errors might be considered insignificant, but trust us when we say that they matter a lot. Just going through your content, fixing grammatical errors and saving that content with a more recent date may bring you a huge difference in the amount of traffic you get. Now, that's not to say that Google sees grammar as the main factor in how it ranks websites, but overall, a well-written, grammatically correct text usually means that it was written by a knowledgeable professional. If grammar is poor, the quality is usually poor too. If you don't want to go through the trouble of editing every piece bit by bit, run it through an online tool like Grammarly. This should eliminate any potential errors you may have overlooked in the past.
Only include correct information
You've probably noticed this in news articles. They will write a piece for a real-time, ongoing situation and then keep adding updates hours or days later. Sometimes, they will do their regular fact-checking and notice something they missed, so they'll update that in the article too and make a note, like in this CNBC news article example. Give yourself the task to fact-check your articles and updating them with new information that you've found. Google will like it, and so will your readers.

Don't stop updating
Updating your old content should be an ongoing effort, and it shouldn't stop with articles. For every piece of content you improve on your site, Google will see it as fresh content. This means a potential ranking boost for both the individual pieces and your entire site.
Link to better sources and remove irrelevant ones
Make sure you do a regular sweep and remove any broken links in your content. There are many tools available online to make this easier for you, such as the Google Broken Link Checker. While you're at it, keep an eye out for more relevant sources that are more current on the subject matter. This alone will make your content fresher and better.
Note: If you've written about a certain topic, but you were previously linking to an outside source, change the link to your blog instead. Simply by doing this practice regularly, you can update old content and get better rankings.
Don't forget about images
It's a well-known fact that posts with more visual content work better than posts with fewer images and visuals. Videos, images, graphs, and charts, all help create a better experience for the user, and adding more of them will certainly give signals to Google that you're optimizing your content and keeping it current. However, don't just add random images and unrelated visual aids. Think about what could be relevant to the user. For example, if you have complex information that is very difficult to read and digest, it might look better in an infographic.
Promote and share

Once you've made these improvements, you should share and promote your content on various platforms, especially social media. This will bring you more traffic, which will help you get backlinks and build your authority as a reputable site on Google. Think about it, the more people read your content, the more likely you are to be seen as a quality source of information, and thus rank better on Google.  Even a small post boost on Facebook can make a difference.
And there you have it. We hope we have demonstrated how valuable repurposing old content can be. Try these steps and see what results they bring you. You might just be surprised with the results you get. If you need help with getting more exposure and better rankings, don't hesitate to reach out to our SEO team. Our experts are here to help you reach new heights. Let's talk: (647) 478-5858.